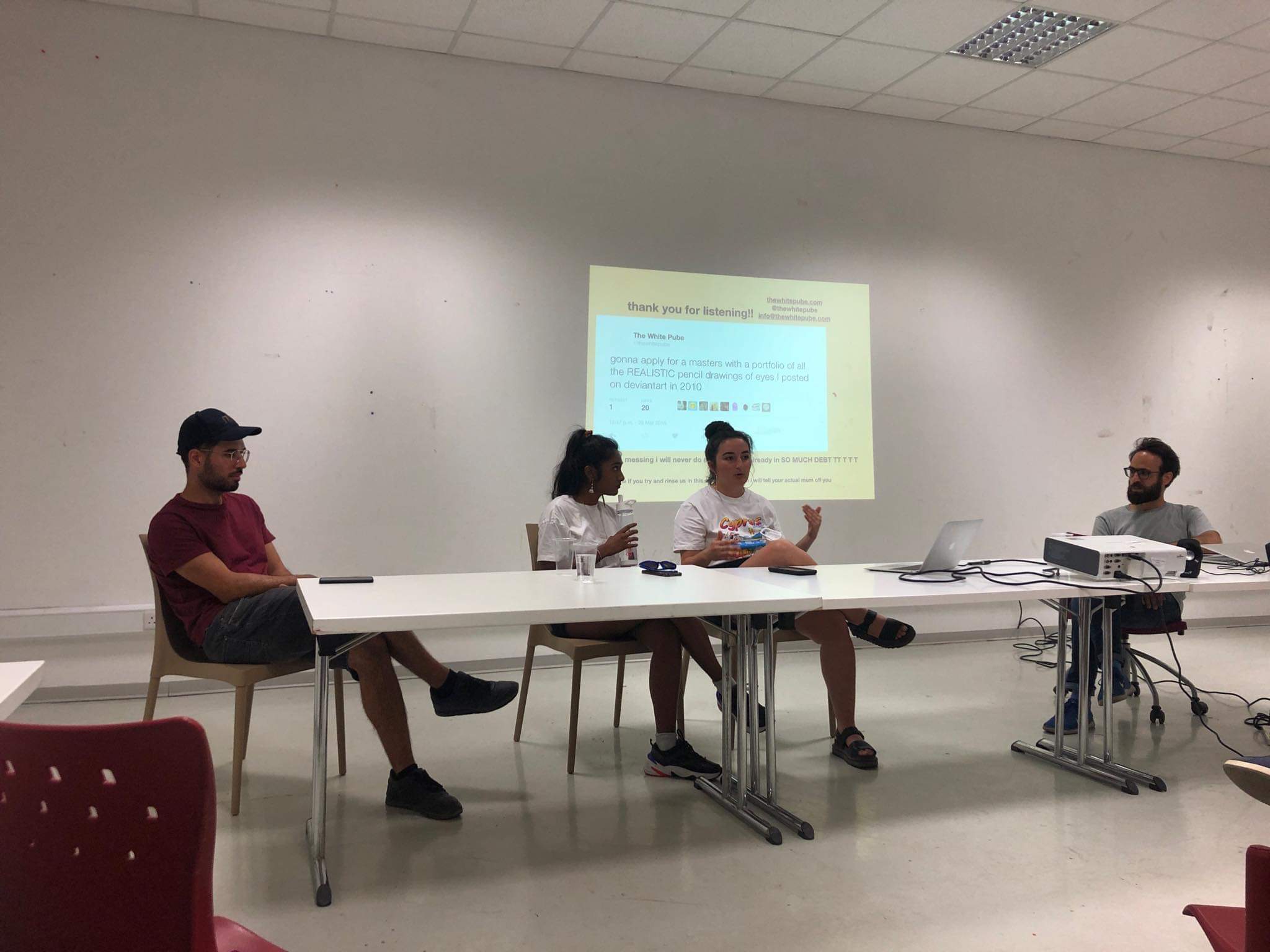 Portrait photo © Ollie Adegboye


The White Pube
05/07/2019 – 10/07/2019
Zarina Muhammad & Gabrielle de la Puente
Visit on the occasion of Relations reversed
Presentation at the University of Nicosia 08/07/2019


Between 5-10th July Thkio Ppalies has the pleasure of hosting The White Pube in Cyprus on the occasion of Leontios Toumpouris' exhibition Relations Reversed. On Monday 8th July at 19:30 Zarina and Gabrielle will be giving a presentation about their project at the University of Nicosia Fine Art building, and you are cordially invited to join us!

The White Pube is the collaborative identity of Zarina Muhammad and Gabrielle de la Puente under which they publish art criticism on www.thewhitepube.co.uk and sometimes curate events. They are on Twitter and Instagram as @thewhitepube. Since the end of 2015 when they started The White Pube they have gained an international readership and an engaged social media following.

"We started writing about art ourselves because everything else was boring/overly academic/white nonsense////and can u be arsed reading one more thing by an old white man because i CANNOT. When we write about exhibitions, the review is a personal reaction; a record of an encounter with an aesthetic experience. 'embodied criticism' someone called it. When we write about institutions or tweet or instagram on some widespread activity in the arts or a bad bad man, we use our position to call out the bullshit that stops a lot of us even wantin 2 go to galleries in the first place / leaves artists and individuals feeling left out of the art world they deserve to b a part of.

Working between Liverpool and London and living with our parents, born 7 days apart as Cancers, we are art critic baby gods and i know there's only two of us but quite frankly we are a gang."

Itinerary shared on Instagram:


Day 01 with @thewhitepube kicked off at Thkio Ppalies with @leontiostoumpouris exhibition 'Relations reversed', we then drove to Limassol and checked out @yorgosstam at @einsgallery and @eric_baudelaire at @theislandclubcy (big thanks to @androulakafa for eloquently talking us through the exhibition). And concluded the day at Lady's Mile beach, by the controversial RAF Akrotiri British bases, for a swim with @elektroniki and @emmidiately.

Day 02 @thewhitepube we were joined by @kyriakos.im whose expertise on Cyprus history, politics and nature informed our each visit. We started by driving via the second sovereign British base area in Dhekelia and crossed into the North via Derynia checkpoint. The ghost town of Famagusta framed our conversations about the Cyprus problem and Cypriot history. We visited Lala Mustafa Pasha Mosque (previously Cathedral of Saint Nicholas) and walked around the old walled city. Then headed back to the South to the completely contrasting tourist-dominated Nissi beach in Agia Napa for a swim. Checked out the Agia Napa Sculpture Park and caught the sunset from Cape Greco. Finished off the day with ice cream and a brief walk in the (always overwhelming) bar and clubbing areas of Napa.

Day 03 @thewhitepube a day of meetings! Started at @phytorioassociation where @mo_asimenou & @othonas_charalambous talked us through the projects that Phytorio are fighting for, such as the 1% law and legal status of the artist in Cyprus, as well as their residency programs. Then met with @andrezivanari and @constantinostaliotis at @pointcyprus where Andre kindly talked us through the projects and history of Point, as well as the struggles and challenges the art world faces in Cyprus. After lunch we headed to @koraiprojectspace and met @andreas_z_mallouris & @alecskyriakides who showed us past exhibitions they hosted at Koraï. Then after a short break headed to @universityofnicosia where the Fine Art department kindly hosted us for a presentation on The White Pube project. Some great questions from the audience concluded the presentation! Finished the day with traditional Cypriot cuisine and the company of @nice.contradiction & @therealpannybrown.

Day 04 final day with @thewhitepube 😭 Started the day with a studio visit at @djorestisl studio, where Orestis talked us through his practice, we then visited the site he's preparing for his upcoming off-site show at @2ppalies!! Had a Bake 'n' Take and headed over to @artseen_contemporary where Maria Stathi kindly walked us through the exhibition 'Attempts to Escape'. Then met with @tanyaguryel, @riddletheuser and @lia.deval at @arucadartspace in the North to see Alev's exhibition 'Crime Scene' and chat about the art scene in the North. Concluded the day at @floricientaiuvenalis testing perfumes, where @studionicostephou talked to us about @honestelectronics, their residency at @drivedriveeeee and the upcoming Gathering 4 festival!